The Lokpriya Gopinath Bordoloi International Airport, which also goes by the name of Guwāhāti International Airport is the central hub airport for traveling to Assam, India. The airport has a couple of uses, both for the common travel of passengers, but also for the Indian military. The technology in this airport has grown significantly in the last thirty years, and has many new amenities that make traveling much simpler. The airport also went through a large renovation process about five years ago, making it even more convenient, affordable and smooth for those wanting to come and explore the region of Assam.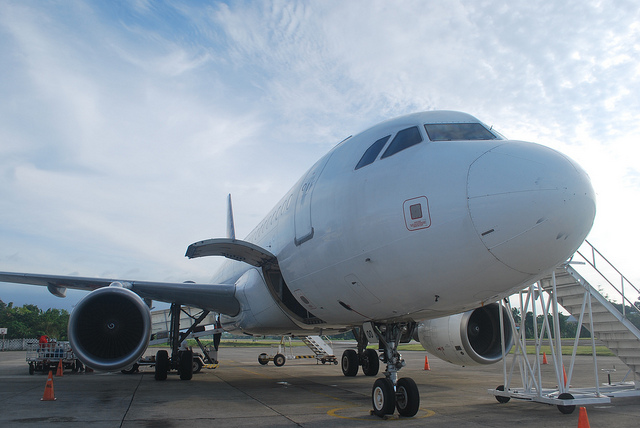 An airplane just prior to boarding, many passengers are about to enjoy Assam and all it has to offer! By
Although this airport is smaller than others located through India, it provides a great spot for people traveling to northern India. The airport has only seven gates that are available for use. This includes six for domestic flights and one for international use. Most flights that enter here are flights coming form other cities in India, making it great for Indians to travel for business or pleasure. There are a couple of international flights that arrive from Sri Lanka and a new flight that comes from Dubai, United Arab Emirates. These allow the airport much more availability to expanding to the outer world, beyond the borders of India. More people can come and explore the beautiful area of Assam.
This airport just went under a very large renovation project, increasing its technological abilities, air traffic, and efficiency. The airport completed this renovation project in 2010, and has since been functioning much more smoothly, allowing it to handle more responsibilities. In this renovation process, runways were improved, ticket counters were increased in function and number, and the passenger area was made much more comfortable. Those that may be spending time in the passenger area due to layovers will have a much more pleasuable experience, thanks to the renovation.
Guwahati is the capital of Assam, and has a lot to offer to those coming to visit. It lies just at the base of the Himalayan mountains, which their own set of tourist attractions including trekking, cultural experiences, and many other offers people visiting may wish to indulge. There a a few parks that have interesting tales dating back to the old days of India. An example of this is Kamakhya Mandir Hill. It was said that Sati's yoni fell here, and is now recognized as a national monument. There are several day trips that can be taken up the river, providing some historical and natural content. Beautiful views can be seen throughout the region surrounding the city. Many modern restaurants are also opening, so the western traveler can feel more comfortable. It is advised not to drink the water in this city, so always find sealed bottled water to consume. This tip should generally be followed for the whole of India.
Koshy Koshy took this photo, which shows the beauty found is Assam.
This airport found in Assam really is the gateway to allowing both tourists and local travelers to enjoy this lovely area of northern India. Without the new technology set in place by the airport's renovation project, this would not be as convenient or as readily available to those from all walks of the earth. India can now be seen and explored by many, and this will only continue to grow in the future years.