North-east India resonates with vibrant culture, friendly folk and green landscapes all around. Many states in the north-east are worth visiting if one wishes to incorporate a greater understanding of the diversity in India. The climate in the north-east is pleasant with cool, fresh air and flourishing tea gardens where the finest teas in India are cultivated. There is an abundance of magnificent architectural structures and vibrant wildlife all throughout the region, making it an ideal tourist destination for people of all ages. North-east India is also bringing out a deep understanding of spirituality within all who venture here, being home to many a monasteries and shrines located at awe striking locations. A trip to north-east India is sure to leave any who venture her absolutely spell-bound and yearning to return again and again. Enlisted below are ten popular tour packages that enable one to experience the essence of north-east in its true form.
1. Simply North East
This tour package is designed to allow visitors to visit four of the most enchanting cities in the north-east. Starting at Bagdogra, the trip goes on to explore the famous tea gardens of Darjeeling, followed by a walk around the city. Darjeeling has various sightseeing options including Tiger Hill, Kanchendzonga and Batasia Loop. The Japanese temple and ropeway trolley are attractions worth a visit. In Kalingpong, you get to enjoy the beautiful surroundings and visit the widespread flower fields. When in Gantok, a visit to Tshangu Lake is a refreshing experience along with a visit to Chortan Stupa, Jhakri Falls and Rumtek Monastery. The entire trip would sum up to a cost of INR 25000/-.
2. Meghalaya and Assam Wonders – Shillong, Guwahati and Cherapunji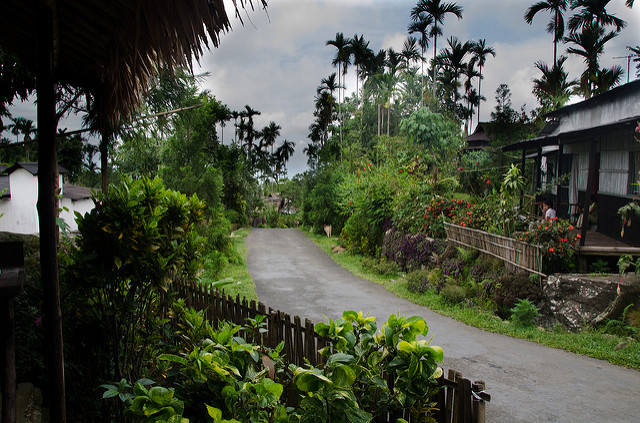 This tour package takes you to a journey through revered places in the north-east wherein you would experience a multitude of exciting sights to see and places to visit. Meghalaya and Assam tour starts in Guwahati with primary attractions being Kamakhya Temple. A stroll around the town, exploring the market place follows suit. In Shilong, a trip to the Golf Course and St. Catholic Cathedral will commence. Following day, a trip to Cherapunji will welcome a tour through Mawsmai Caves, Seven Sisters Falls and Khasi Monoliths. A jingle expedition will commence the next day involving a 3-4-hour trek into trek through sock-cut steps. The trip would last five days and cost a total of INR 14000/-.
3. North East Delight with Lachung
With this tour package, you get to explore Gangtok, Lachung and Darjeeling. A visit to Tshangu Lake and Baba Mandir would stand to be a refreshing experience at Gangtok. Following day would bring several attractions on the way to Lachung including Kabi Longtsok, Tashi view point and Seven Sisters Falls. Several handicraft stores and local art will also be encountered during this trip. In Darjeeling, you would see the Japanese Temple along with various other attractions ending in a toy-train ride across the town. The tour package comprises of six days of touring and would cost a sum of INR 27000/-.
4. Mystical Himalaya
This five-day holiday package includes an enthralling journey through Gantok and Darjeeling during a five-day trip. A day of leisure would be given to the tourists for exploring the beauty and streets of Darjeeling. There will be a multitude of attractions to see in Gantok including Tenzing Rock, Zoological Park and Chungu Lake. Baba Mandir is a revered temple included in the itinerary and is visited by many a tourist throughout the year. Amongst other attractions that will be visited are Tashi View Point, Ranka Monastery, and Dro-dul Chorten. The entire trip would come around to a total cost of INR 12500/-.
5. Manas and Kaziranga National Park
To appreciate the genuine luster of North-India, an exploration through the wilderness of Kaziranga opens up one's perspective. This tour package includes an Elephant-back Safari during the day and a jeep safari during the evening through the jungles of Manas National park. The remainder of the trip will be spent exploring the lust green forest of Kaziranga national park where one may even spot the Asian Rhinoceros durin a safari. The entire trip lasts a total of five days and comes up to a cost of INR 23000/-.
6. Amazing Tawang- Deluxe
Tawang is a beautiful hill station usually covered in clouds. This holiday package explores the vast meadows and green valleys of Tawang. The trip starts at Bhalukpong, where the most popular attractions including Bomdila Monastery and Dirang will be visited. Later in the trip, Tawang valley will be encountered where the beauty of Jaswant Garh and Sella Pass can be relished through a day of sightseeing. Tawang is also famous for Its Monasteries and Sangestser Lake which will be visited during the trip. After the end of Tawang excursion, a return trip to Bhalukpong will commence to mark the end of the journey. Total cost of this package would round up to INR 27849/-.
7. Enchanting Meghalaya
Meghalaya tour package takes you on a journey through the picturesque expanses of Shillong and Cherapunji during a course of five days. The journey begins in Guwahati and continues on to Shillong for sightseeing. After a day of leisure, the journey to Cherapunji commences to explore the green scenic marvels of Sohra. The trip also includes refreshing sights in Mawlynnong which is coined the name cleanest village in India. Popular attractions here include the Living Root Bridge. On the way, back to Shillong, Khasi Village will be encountered where local handicrafts and art can be relished. The trip comes up to a cost of INR 18000/-.
8. Assam Wildlife Tour
To enjoy a leisurely trip through the wilderness of Assam, this tour package has maintained a great deal for tourists. The trip includes a detailed tour through Shilong and cherapunji where the attractions including Seven Sister Falls, Mwasmai Caves and Eco-Park are visited. Later in the trip, St. Cathedral is visited followed by a bus ride to Pobitora. After raching Guwahati, an Elephant Safari is embarked to explore wildlife. At the end of the trip, a visit to Kamakhya Temple is visited where tourists can bask in architectural marvel. The cost of the package is INR 17650/-
9. Tawang- The Jewel of Arunachal
This unique tour package takes you through various exotic locations in Arunachal Pradesh. The journey includes a stay at Tawang where places of interest include Nameri National Park. This Wildlife sanctuary is famous for a multitude of wildlife including Slow Loris and Royal Bengal Tiger. Other attractions that will be visited near Tawang are Bomdila, from where snow clad mountains can be viewed. A trip to Dirang will be initiated which is famous for its hot water springs. Later in the trip, a journey to Bhalukpong will commence, where visitors can enjoy unyielding natural beauty. The entire trip spans one week and costs a total of INR 29559/-.
10. Kaziranga National Park Tour
Kaziranga national park is known to be a thriving home to the Indian Rhinoceros. Apart from Rhinos, there are several other species present in its forests. This tour package includes an elaborate elephant safari across the park. Besides this, a Jeep safari is also conducted for tourists to explore wilderness up-close. The trip lasts for three days and costs a total sum of INR 11800/-.
There are a multitude of locations in the North-East that are exciting to venture into. These tour packages provide people and opportunity to get out into the world and explore the vast expanses of the Seven Sisters of India.